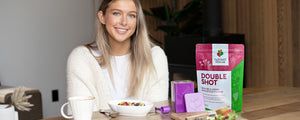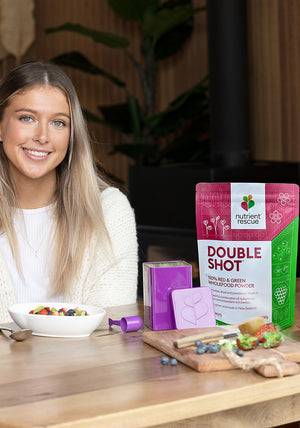 Feel the effects of good nutrition.
Experience just how good your body will feel with added nutritients.
One Scoop, every day, for 30 days is all it takes.
If you want to make one small positive change to your life, this is your shot.
3 reasons to start your well-being journey.
Get the right nutrition.
Finding the space to take care of ourselves and eat properly can be a struggle. Nutrient Rescue is an optimised combination of 8 nutrient-dense organic superfoods the body needs to flourish. All our ingredients are 100% New Zealand grown with nothing added. Just as Mother Nature intended.
Small change, big impact.
Making small changes can have a big impact. One scoop every day is all it takes to help improve your immunity, energy, skin and bone health, digestion, inflammation, stress, sleep... in a nutshell, helping you be the best super human you can be. 87% of Shotsters say they feel better about their overall health and wellbeing after taking their Shots daily. Read more about what they have to say.
Easy, simple, convenient.
Our wholefood powders are an easy and convenient way to top up your daily intake of fruit and vegetables. If you're one of the 93% of Australians that don't eat enough vegetables or 50% who don't eat enough fruit, this is a simple and effective solution to help you be the best version of yourself, every day.
Wellness guarantee.
We believe in our superfood powders so much that if you don't feel better after taking your Shots every day for the first 30 days, we'll give you your money back. Just get in touch with our friendly team.
Double shot has become my new daily need.

"I get the double shot sent out every month. I add it to my breakfast shake every morning! I love the extra taste it adds to my breakfast, I love the extra energy I have in the afternoon ( I'm not tired around 3pm no more), I love the way my skin, hair and nails are starting to look healthy and bright for skin and strong and healthy for hair and nails!. And I love the extra added bonus of knowing I'm getting well needed extra fruit and veges in my diet daily. Double shot has become my new daily need."

cassandra blackburn
I haven't been sick which is amazing.

"I have loved the increased immunity. I have 3 young kids who have had cold after cold this winter and normally I would get the colds as well, but since starting the shots I haven't been sick which is amazing considering how much my kids share their germs with me!"

Fiona
It's the perfect shot for me.

"Love your red shots I have been taking them a few weeks now. I have my energy back and with it being so high in antioxidants and vitamin C it's the perfect shot for me. I feel the inflammation and pain in my body isn't as bad also. 😊⭐🙏Thank you."

Charmaine Ward