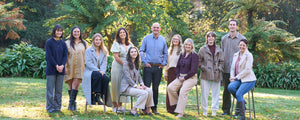 Healthier people, healthier planet.
Our story
Nutrient Rescue was founded in 2016 when Michael and Samantha Mayell felt the energy, vitality and overall health benefits of switching to an organic plant-based diet. They discovered that 63% of Kiwis don't eat the recommended amount of fruit and vegetables a day, so a lot of people weren't experiencing the health benefits of good nutrition and missing essential vitamins, minerals and fibre in their diet which are vital for supporting the mind and body to be at its best. 
They founded Nutrient Rescue as a company dedicated to helping New Zealanders increase their daily nutrient intake in a quick, easy and affordable way. Working with a qualified nutritionist and food technologist, the original red and green superfood powders were created. A few years on and they realised that people wanted the detoxification of the Green Shot and the immunity and energy boost of the Red Shot. And thus, the Double Shot was born – the perfect plant-based wholefood powder which in one scoop contains the equivalent of four serves of fruits and vegetables.  
A decision was made to use only New Zealand grown plants due to the fertility of the land and quality of the soil. This aligned two key pillars for Nutrient Rescues purpose "for the people" by ensuring the quality of the plants and their nutritional value and "for the planet" by giving the farming community a viable plant-based opportunity.  
Very quickly they realised that getting the right nutrients in a daily diet was not just a struggle for New Zealanders, many people around the world were facing the same problem. So, they decided to turn to helping people from all over the world, starting with our neighbours in Australia. 
At Nutrient Rescue, we believe everyone should have easy access to plant nutrients they need to fuel their bodies and be their best selves - because the better you feel, the more good you can do. 
We exist for 2 reasons:
Healthier people
The dominance of highly processed foods in our diets means most of us aren't getting the right nutrients. Nutrient Rescue makes it easy to dial up your daily intake of fruits and vegetables in an effective, convenient and affordable shot of nutrient-dense superfoods - the building blocks for health and wellbeing.
Healthier planet
By encouraging the need for people to get more organic, plant-based ingredients into their bodies, we're supporting an industry of hard-working local growers while providing farmers with an opportunity to diversify. Growing superfoods is also easier on the environment - making sustainability something we can truly celebrate.
Our golden rules
Keep it real
All our products are made from 100% natural New Zealand home grown wholefoods. We will tell you exactly what's in it, where it comes from, how it's made and why it works. We are genuine, caring people who want people and the planet to be healthy.
Keep it simple
Our idea is simple. A powerful combination of nutrient-dense superfoods in powder form, mixed with water and taken as a convenient daily "shot". With nothing else added, this is good nutrition made easy to keep you healthy.
Keep it up
We understand the power of a healthy daily habit, so whatever you do to improve your self-care it has to easily fit into your life. Our wholefood powders will boost your vitality if taken every day. We want to celebrate and encourage your well-being journey with you.
Our family
Our driving force
Our leadership team have a genuine care for all people and the planet, and have been the driving force behind Nutrient Rescue since its inception in 2016.
Original founders, Michael and Samantha Mayell, created Nutrient Rescue out of a real need for an affordable and accessible nutrient-rich food source to aid overall health and well-being.
Simon Challies is a strong advocate for what we do; taking Nutrient Rescue shots every day made such a difference to Simon's health, he bought into the company early on and has been heavily involved in the company from a desire to help other people experience the life changing results he has enjoyed.
Andrew Murray takes his Double Shot first thing in the morning and brings a wealth of experience to the Board from his work across a number of commercial and community organisations.
Our team
We're a young company with a passionate team of people who genuinely believe in the power of good nutrition. What really gets us out of bed every morning is hearing real stories people share with us about how their daily shot has improved their well being and in some cases has changed lives.
All our team, lead by our Chief Shotster Andrew, are committed to bringing you the best possible nutrition directly sourced from our wholefood suppliers at the best farms and orchards through to our front line team, all striving to be the best at what they do.
Abi and our dedicated production team ensure the best possible organic ingredients are sourced, dried, powdered and delivered direct to your door. Debbie makes sure you get all the information you need which is clear, backed by knowledge and easy to understand. Maddie takes care of all our new Shotsters, while Mollie makes sure that all our customers are informed with the latest news, knowledge and things that help along the Nutrient Rescue journey. Rebecca focuses on our Shotsters in Australia, while our friendly Desiree is always at the end of the phone to cheer you along and help with any inquiries.
The care our growers show
Our carefully selected New Zealand suppliers grow their nutrient-dense whole foods in organic or spray-free environments.
Following the principles of sustainable farming, our growers ensure the crops are harvested at the peak of their vitality to preserve the optimum levels of vitamins and minerals.
There is meticulous care from field to mill when harvesting the young plants, which are then gently dried before being crushed into powder and packaged, ready for you to enjoy all their wonderful benefits.
Doing some good every day
Kilmarnock Enterprises
A charity that is closely aligned to our values. This is a charity that creates work opportunities for people with disabilities. Kilmarnock currently employ over 65 people, who they see as having a range of abilities, rather than disabilities. As a result of providing an inclusive and enriching paid working environment, their team are encouraged to unlock their full potential. Kilmarnock packs our superfood powders.
Visit their website
Braintree
Braintree is a wellness center for local people living with neurological conditions. Their purpose is to enable people with a neurological condition to keep living a life full of potential. Their aim is to help people discover that there is still a lot of life to be lived after a diagnosis and that there are choices they can make to manage their condition their way, so that they can continue to live independently in their homes and communities. Nutrient Rescue has donated $100,00 to this valuable cause.
Visit their website
Our sponsorships
Junior cricket
Old Boys Collegians Cricket Club's Junior program.
5 Passes Tour
A annual 5 day cycle tour that attracts entrants from around the world.
Godzone
An adventure racing team dedicated to a plant-based lifestyle and crazy racing.
Krazie Kapers
An annual 160km adventure trail. We provide product to the race entrants to support them through this amazing adventure.
Do you have a question?
Get in touch with our team.