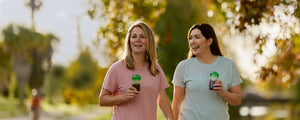 Experience just how good you'll feel when you have the right nutrition. One scoop, every day, as part of your daily ritual is all it takes. If you want to make one small positive change to your life, this is your shot.
The ultimate blend of our nutrient-dense red and green superfoods. Each Double Shot contains the equivalent of four serves of fruit and vegetables. 1 scoop, every day as part of your daily ritual, and you are done!
Benefits
Boosts energy and supports immunity
Detoxifies and alkalises the body
Eases inflammation
Stress relief
Two polyphenol-rich super berries combine to help boost your energy and immunity, as well as support athletic performance and physical recovery while easing stress and inflammation. This shot is the perfect afternoon pick-me-up.
Benefits
Boosts energy
Supports immunity
Stress relief
Eases inflammation
Our modern-day version of Popeye's spinach! Six green organic superfoods that can help remove toxins from the body and fight inflammation while improving your skin, hair, nails and liver function.
Benefits
Detoxifies and alkalises the body
Improves hair, skin and nails
Flights inflammation
Dial up your nutrition the smart way
with our blend of 100% natural nutrient-dense superfoods
Preservative & additive free